In about an hour I'm getting a tooth pulled. Can't wait! I'm not writing about this just to pass on a personal event. I'm going to see how much my mindfulness practice will help me handle the experience. I'll be focusing on my breathing, which I regularly do (formally each morning when I meditate) during this unpleasant procedure to see how it influences my emotions.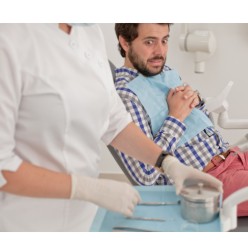 Mindfulness is becoming ever more popular in the workplace. And not just among executives and techies. Schools, hospitals, sports teams, police, military, and now, just a bit, blue-collar employees. According to ABC anchor and author, Dan Harris "Meditation is going to join the pantheon of no-brainers like exercise, brushing your teeth and taking the medication your doctor prescribes."  (Here's a link to Dan's video "Why Mindfulness Is the New Superpower" )
Well, now I'm a tooth lighter. Thankfully the tooth was in the back of my mouth, so it doesn't affect my smile.
Did my mindfulness practice help? You bet it did! I was so intent on paying attention to my breathing as well as what I was experiencing and how it affected me that I didn't feel any dread. And the discomfort was not a problem at all.
Mindfulness isn't a cure all for pain and other nasty events but it does help you handle them better. It also makes you a safer person because, with practice, you pay better attention to what you're doing whether it's climbing a ladder or drinking a cup of coffee.
One of my clients told me that introducing him to mindfulness was one of the best gifts he's ever received. I'm planning on passing on this gift to as many people as I can by writing and speaking about it regularly.  So, expect more blogs from me about mindfulness and how it can help you and your employees live safer, healthier and happier lives.
Introduce Your Employees to Mindfulness
During one of my popular talks "Find Your Focus" I show my audience simple and practical ways to include mindfulness as part of their daily lives. I adapt the talk for the type of audience I'm speaking to (engineers, managers, mechanics, line workers, nurses, etc.) Mindfulness has been shown to improve a person's ability to pay better attention while driving and doing other tasks.
Here's a link for more information about this helpful talk on my keynote topics page: FIND YOUR FOCUS